Quest description
Edit
Fairy Tree has finally revealed its secrets, I'll get a chance to... whatever, we are ready for the journey! Load the rose into the Airship an hold on tight. We are flying to Blackwood!
Quest objectives
Edit
Quest completion description
Edit
The dark, old, and quiet forest met us as it should: still and silent.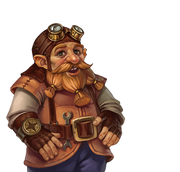 Pilot: I don't like this forest. Well, the truth is there are very few things in this world that I like, but this forest here simply disgusts me. They say that in its heart there is a bandits' citadel.
Player: Really?
Pilot: Yes, exactly. And they practice in their secret den some magic tricks. The tower of the old-forgotten wizard glows at night.
Player: That way?
Pilot: Sure, where else do you want to go? You call yourself an adventure-seeker? Go prove it: set off for the darkest place of all.
Player: Let's go
Community content is available under
CC-BY-SA
unless otherwise noted.