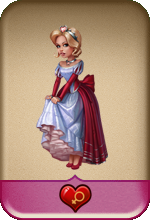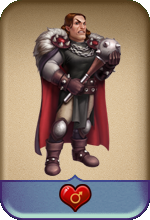 The player character is controlled by the player, and can be either a female Lady (also called Princess) or a male Knight. Each option focuses on and opens up different areas of gameplay, with the Lady building and leading the economy of her Estate and the Knight managing his Camp preparing for and engaging in fights and tournaments.
At the start of the game the player is made to choose first between playing as a Lady/Woman or as a Knight/Man; this choice is permanent and cannot be reversed in-game.
The second choice given is between three player options, each bringing different appearances (head image and clothes) and inheritance into the game. The second choice has no further effect on the game aside from the starting setup; the inheritance is a one-time gift, and clothes, head, and even (for a fee) the name can be changed at the Fitting Room.
The player character was orphaned in the past, their parents disappearing when they were a small child, and is now coming of age. In this they are guided by their family members Aunt Mary and Uncle Bill, who explain the game mechanics and deliver quests.
A few relevant content links:
Community content is available under
CC-BY-SA
unless otherwise noted.