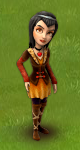 Playing via Plinga, as PotniaZoon with a Lady named "Potnia von Tierau". I speak Deutsch, English, and very rusty Francais.
History:
I put the wiki up on 31 Jan 2015 because there wasn't any. No, I am not affiliated with the game or its developers in any way. I built up almost the whole thing by my lonesome for two months before anyone else cropped up. The wiki was then nearly entirely written by I and F0NNi over the first year. We hit 1000 pages in Dec 2015. I continued again pretty on my own through 2016. In summer 2017 I got some help again, that petered out by 2018.
Contact:
You can contact me on my message wall (or my alternative Talk Page here), even for "in-game conversation" stuff; because the in-game messaging via gifts is quite cumbersome. For overseeability, if you message me several times and it's about the same general topic (e.g. wiki matters/editing/personal) please consider posting in a continuous thread instead of opening a new one every time. It's easier to navigate and follow if the conversation/correspondence with a person and/or on a topic is in a continuous thread instead of scattered.
General questions not personally directed at me should go to the respective articles' comments or Forum, where they reach a wider audience than just me.
I also have a personal matchmaking thread in the Forum. Forumthreads otherwise tagged for me: Topic:User:PotniaZoon.
Links:
userboxes
| | |
| --- | --- |
| | This user plays as a Lady. |
Community content is available under
CC-BY-SA
unless otherwise noted.